The attached image is one of our computer model images from the EPAWA models page:
http://epawaweather.com/weather-models/
for the potential snow event Friday and Saturday. The Canadian and European model guidance show two distinct shortwaves (disturbances) in the northern stream. One runs out ahead and creates a slow movi
ng storm, and the other phases into the system itself, causes a stall of the system, which leads to some crazy snowfall amounts that is measured in feet. The GFS remains less aggressive with a different perspective of handling the northern stream. It is still too early to make a call on this system, but the consistency showing up on the European model guidance needs to be noted here for now.

First alerts for this system will be sent to our My Pocket Meteorologist subscribers this afternoon. We will also be in our forum posting and updating on each model run and our take as they come in. For details on the My Pocket Meteorologist text alerts and/or premium forum and to sign up: http://epawaweather.com/my-pocket-meteorologist/
---
Powered by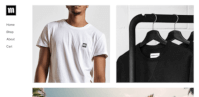 Create your own unique website with customizable templates.
Photos used under Creative Commons from Anton Jackson, astrologyphotographywesildssharon