By Lucas Wood
HAZLETON, Pa. -- This past Saturday, a shooting occurred at the Pine Street Playground in the city.
A local rapper, Jacob Diaz, wrote a song in memory of his friend Carlos' passing.

He published the following on his Facebook timeline:
"​Hey Carlos J Luna, I never knew making a song with you could hurt this much...but you always asked me to feature you on my music so I went ahead and finally made us a song we can sing together forever man.. I'll never forget that you told my brother one day you respected the music I do. I will always be inspired by how uplifting , charismatic, and joyful you always are. You looked up to me, and I looked up to you. I hope this tribute makes you smile old friend.. ?
Mr USPA - Long Live Los ft. Los (Prod. Taylor King)

Powered by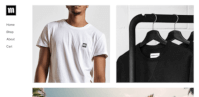 Create your own unique website with customizable templates.
Photos used under Creative Commons from Anton Jackson, astrologyphotographywesildssharon