KELAYERS, Pa. -- A man from Kelayres, a small town directly outside of McAdoo, was charged by Saint Clair Police for indecent exposure.
The incident took place on Sunday, February 19, 2017.
​
Police say that 44-year-old, Jeffrey Henderson, committed a lewd sex act upon himself at the Saint Clair Coin Laundromat.

Powered by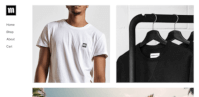 Create your own unique website with customizable templates.
Photos used under Creative Commons from Anton Jackson, astrologyphotographywesildssharon