By Lucas Wood
HAZLETON, Pa. -- On November 7, 2017, at approximately 1100 AM, information and investigation indicated that 41-year-old, Raymond William Bolling, of Hazle Township was at the Hazleton Motor Inn.
Bolling was located in Room 102 and Hazleton Patrol, Detective Bureau and Narcotics set up surveillance on the location and determined that the white Chevy Equinox identified in one of the crimes was also parked in the lot at the location.

Hazleton Patrol, Detective Bureau and Narcotics Division surrounded and secured the location making entry into the room and taking Bolling into custody without incident for the robberies in West Hazleton, Plains Township and the Greater Hazleton area.

Bolling was accompanied by a female in the location and the investigation is continuing.

Hazleton Police transported Bolling to Hazleton Police Headquarters for processing and notified West Hazleton Police Department for transfer of custody and arraignment on the crimes in their jurisdiction.

Plains Township was notified and a copy of their warrant for Bolling was sent to Hazleton Police.

Statement by Chief of Police, Jerry Speziale:
"Regardless of where you commit a crime Hazleton Police will assist, capture and deliver you to face swift justice."

Powered by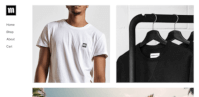 Create your own unique website with customizable templates.
Photos used under Creative Commons from Anton Jackson, astrologyphotographywesildssharon