WASHINGTON, D.C. - On Thursday, President Obama awarded outgoing Vice President Joe Biden with the Presidential Medal of Freedom, our nation's highest civilian honor.
In President Obama's speech, he called Biden "the best vice president America has ever had" and "a lion of American history."

The medal has only been awarded to three other people: Pope John Paul II, former President Ronald Reagan and former Secretary of State Colin Powell.
Powered by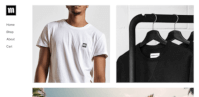 Create your own unique website with customizable templates.
Photos used under Creative Commons from Anton Jackson, astrologyphotographywesildssharon