By Lucas D. Wood
KLINE TOWNSHIP, Pa. -- On Wednesday evening, officials say seven train cars that were part of a train travelling on the Reading, Blue Muntain & Northern Railroad line came off it's tracks in Kline Township.
The incident occurred near Milemarker 136 on Interstate 81.

At least seven cars were reported to have derailed during the incident with no injuries reported.

Video and Photo Courtesy of SSPTV News
Powered by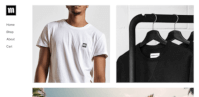 Create your own unique website with customizable templates.
Photos used under Creative Commons from Anton Jackson, astrologyphotographywesildssharon